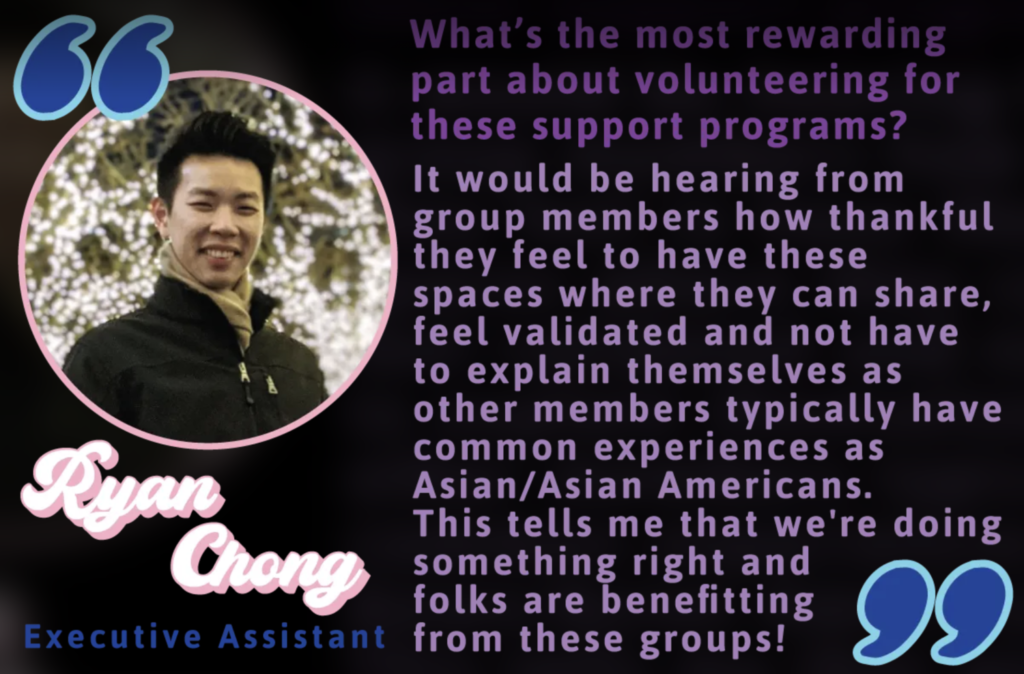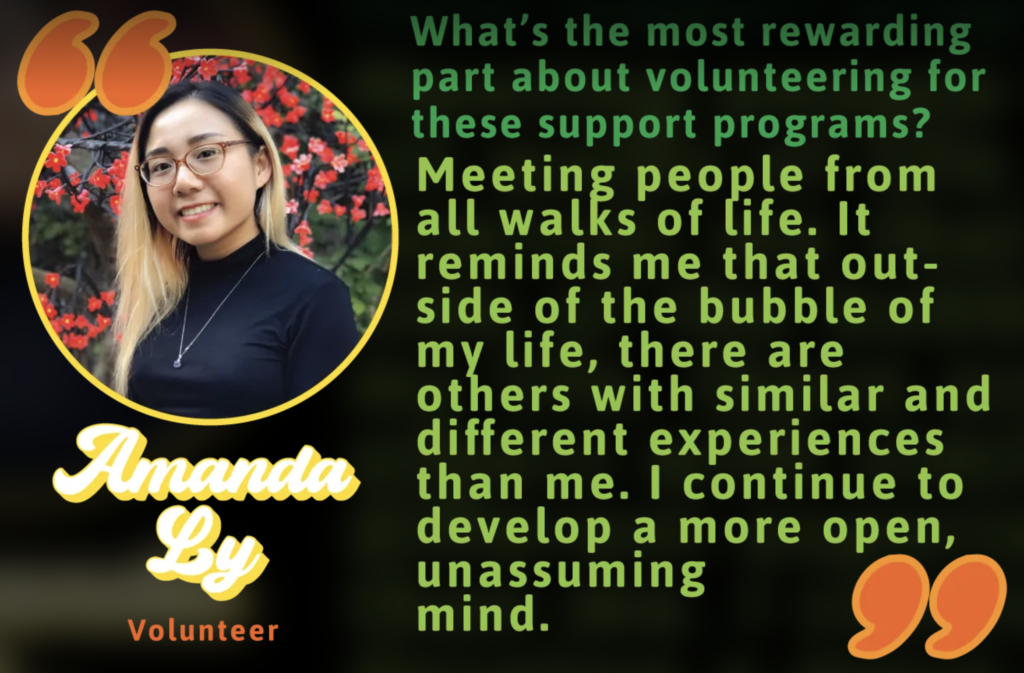 Tell us about the listening sessions and support groups that AMHC offers. What are these programs and how can people sign up as participants?
Ryan: The listening sessions were a one-on-one peer support initiative that have transitioned to the current professional-led community support groups. Every month we start a new 8-week group with various topics led by Asian licensed mental health professionals to provide a space to connect with and seek support from other group members. We advertise these sessions on our social media channels (Facebook, Instagram, Twitter), so look out for them to register! The team is also looking into different peer counseling models to ensure we keep to professional guidelines, so we could still have something one-on-one in future that is similar to our listening sessions.
Amanda: Previously, AMHC used to offer one-on-one support to anyone requesting a listening session. However, in order to reach more folks, it was transitioned to a support group style. People can sign up as participants by checking on AMHC's FB page, IG stories, or Twitter to find the link to join support groups. Currently the one I am helping to facilitate is open to all, so don't hesitate to sign up!


What is your role on the listeners team? What have you learned from your experience?
Ryan: I help to coordinate the support groups and have had the chance to be a cofacilitator with Dr. Sean Cheng for one of the very first groups we started. As a trainee in the mental health field, the experience prompted me to think about and refine my own facilitating style, as well as how to moderate conversations that members bring up. I also learned that there is power and comfort in community.
Amanda: My role on the listeners team now is being a co-facilitator to assist Dr. Smith, a licensed clinical psychologist, moderate the support group. I have learned how to pay greater attention to bodily cues, facial expressions, tone of voice, and many other aspects because as a facilitator, it is important to notice how others are reacting to vulnerable, possibly triggering experiences being shared.

What's the most rewarding part about volunteering for these support programs?
Ryan: It would be hearing from group members how thankful they feel to have these spaces where they can share, feel validated and not have to explain themselves as other members typically have common experiences as Asian/Asian Americans. This tells me that we're doing something right and folks are benefitting from these groups!
Amanda: The most rewarding part about volunteering for these support programs is meeting people from all walks of life. It reminds me that outside of the bubble of my life, there are others with similar and different experiences than me. I continue to develop a more open, unassuming mind.